BKB – Tajiri – Oct 17th
It was a comfortable cool Autumn morning for a sail. It was small class of two for this BKB class. We started on time with my introduction as instructor. I asked if everyone was comfortable with their Pre- test and if there were any question. There was only one and it was about roller reefing units. I took the group outside to show them a boat to explain.
Next we went down to the class boat. We went over some parts of the boat, inspection, safety items, inventory and starting the motor. As both students had some background, so things went smoothly. We took a short break before heading out on to the water.
I had one of the students start as Skipper right at the dock. Once out on the water I showed them how to reef as the wind was fairly strong. Better for safety and comfort to have the reef in early, rather than late.
Next I had them both do  tacking and jibing as skipper and crew. Both were good at the task and only needed a few pointers to be more effective in operation,  After a few rounds of each the next practice item was heaving-to. Only one person got to try that in the morning run as we need to head back for lunch.The other student took the boat back to the dock as skipper.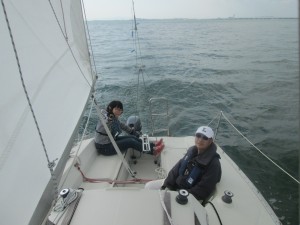 After lunch we changed skippers again and headed back out on the water. The wind had calmed down a lot by this time, so the reef was removed underway. Wind continued to drop. I did a demo on C.O.B. then each student had a turn at the drill. Wind had fallen off to almost nothing at one point so we needed to use the motor lightly to give us some motion. I explained that under live conditions there is a danger in the use of the motor and is not advised. As this was a drill I wanted them to understand the pattern and steps.
After the last student did the heave-to drill which was missed in the morning session we returned back to the dock. I had some concern about the motor which was cutting off at time, so the main sail was not dropped until we reach the docking area just in case it was needed. However it was not, we had a smooth docking by the student.
After cleaning, putting the boat to "bed", we took a break before doing the written test.
Both students passed with high scores!